« Go Back
PRIORY CAMPAIGN 2018-2020
Welcome to the official webpage of the Priory Campaign 
A NAZARETH IN SOUTH LANCASHIRE
[Updated on 10th August 2020]
Dear friends, supporters and benefactors, thank you wholeheartedly for your continued interest for our Priory Campaign.
Breaking news: Providential donation brings completion within reach!
Last month (July 2020) a generous benefactress bequeathed £50,000.00 from the estate of her late husband (R.I.P.) to the Priory Campaign. This is the fourth largest donation received since the beginning of our Campaign two years ago. It was totally unexpected and came as special blessing, since the benefactress was not in regular contact with us and does not live near Warrington. It confirms that our goal to secure a traditional stronghold in England appeals to Catholics nationwide, not only in the North West.
This providential donation brings completion within reach, leaving only £77,000.00 to raise. Compared with the overall £720,000,000 cost of the Priory Court (three units together), this represent just about 10% left to raise. So, against all odds, you allowed us to raise already 90% of the total cost, namely, £643,000.00.
While we already own Units Two & Three (bought last October for £480k, i.e. £240k each), we need to raise the remaining £77,000.00 (out of £240k) before 16th October 2020 to complete the purchase of Unit One, currently leased to us.
As you are aware, our aspiration is to buy the remaining part of Priory Court (Unit 1) as part of the Campaign, but should we not have sufficient funds to convert and reconfigure the whole Priory Court building to better suit the needs of St Mary's Shrine, then Unit One will be handed back to its owner in October 2020 and Campaign funds would then be used for the purposes of conversion and reconfiguration of the parts of Priory Court that we do own (namely, Units 2 and 3).
Each unit is 2,561 Sq ft on three floors. We will thus own 5,122 Sq ft, plus 18 parking spaces.
Please get in touch with us if you would like further clarification or wish to discuss a donation that you have made. Kindly email any inquiries to malleray@fssp.org.
God bless you.
---
Moving here? They are building the trad Village for us!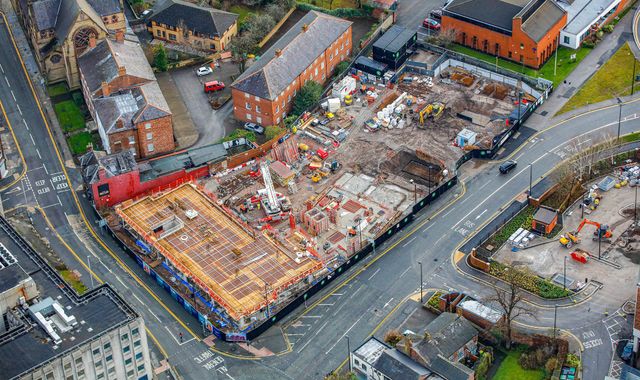 St Mary's Shrine is the Catholic church building in the centre of Warrington. Warrington Borough Council is promoting the construction of many residential buildings within a few minutes walk from our Shrine. You could move here. Further below, we explained two years ago our vision for a strong traditional hub of families and individuals living geographically close to each other around our Shrine. The ongoing lockdown, with the extreme difficulty of accessing the sacraments and of finding support from among one's peers, is leading Catholics to consider very seriously this option. Right outside Priory Court, dozens of flats are currently being built. Fancy this: from your kitchen you could see the procession start and arrive in church before the Asperges begins,  without having to cross any street! (Admittedly, better arrive earlier for Holy Mass.) Take a look for instance at:
https://www.laneend.org/academy-street-warrington.
A few minutes walk south of St Mary's Shrine, Howley is a quiet residential area with bungalows and small houses, with pedestrian access to Victoria Park through the lovely Howley suspension bridge across the Mersey River.
---
Despite the lockdown, we haven't been idle:
Like the entire country, our Priory Campaign has suffered from the Covid-19 lockdown. Work, social activities and fundraising were de facto suspended. But we were able to transfer all the music archives on new shelves into Unit One where our new Music Room is now located. This allowed us to move our liturgical items into the original church Sacristy, until then used as Music Room. With frequent solemn high Masses, Lauds, Vespers and Compline prayed daily, and many altar servers, the need for a dedicated sacristy was becoming critical. Playing musical chairs – no pun intended – our lay servers moved into the former Sacristy, originally the Servers' Vesting Room. This in turn freed up the side Confessional they were using to hang their cassocks and cottas, now available again as a Confessional when the church re-opens. The last stage will be to move the free-standing confessional out of the Memorial Chapel where confessions have been heard for five years, and to have the chapel used for smaller groups, devotions etc. In addition, our only Meeting Room so far was in the Presbytery. Moving it out into Unit 1 allowed us to turn that room into a much needed sitting-room for our resident clergy and occasional guests (until then we only had the dining-room and kitchen as common rooms at the Presbytery). Last but not least, assessment has taken place to move all our administration into Unit Three. We need to create offices for the four priests, since so far all but one have only their bedroom for work. Our Secretariat, Archives and storage will also move there.
None of this would have been possible without the purchase of Units Two and Three last October. If God grants us to complete the purchase of Unit One, it will allow us to plan more activities beyond the immediate needs of Warrington, with your support.
Special intercessoress: the Servant of God Elizabeth Prout (1820-1864) founded the female branch of the Passionists with Bl. Dominic Barberi. Her congregation served deserving families in the North West. The Sisters of the Cross and Passion of Our Lord Jesus Christ arrived in Warrington on 3 January 1899. Their convent, 80 Buttermarket Street, was beside St Mary's Benedictine Priory.  They came to teach, to visit sick and needy parishioners, to instruct converts and to help the poor. The Sisters taught in St Mary's girls' and infants' schools from 9 January 1899 to 1967. Her congregation now ask to be informed of any favour granted specifically through her intercession. This could lead to her beatification. With the 200th anniversary of her birth occurring this September, less than a month before the fundraising deadline for our Campaign, I now request you confidently to make daily if you can the following prayer: "Servant of God Elizabeth Prout, to further your work of Catholic education and assistance to Catholic families in our country so much in need of it, please obtain from God's Providence the successful completion of the Priory Campaign in Warrington, on the very location where your Sisters served for decades."
---
We copy for you below our description of the use of the building until 20th March. Parish use will hopefully resume soon.
On the Ground Floor, the current parish hall is already too small for coffee after Sunday Mass, and might become so as well for the Wednesday Men's group already attended by twenty men. We had a wonderful Nativity play in the larger Top Floor, but a lift would be required to use that larger space on a regular basis, as it is too high up for our less mobile parishioners to access conveniently. Every Thursday, our family education group also uses various rooms in the building, and a Catholic library is in preparation. We also will soon begin watching good films together on a large screen.
These activities already have made a huge difference to the life of St Mary's Shrine, meeting the needs of families as well as of single people. To connect our church with the new shrine building, a gate was opened through our garden wall providing off-street access to the new car park and building. A smooth ramp with handrails was installed and a paved walkway now runs along the rear of the presbytery from church to car park. These improvements successfully make the newly acquired building and car park part of the one Shrine entity.
By God's grace, through the generosity and prayers of many, and against serious odds, the large building of Priory Court near St Mary's Church in Warrington, was purchased by the Priestly Fraternity of St Peter last autumn. As you may recall, the Priory Campaign was launched in the summer 2018 to convert two office buildings to pastoral use. Formerly owned by Ampleforth Abbey like St Mary's Church and Presbytery, these two further buildings of sympathetic Georgian style are part of the same architectural compound. While in the end we could not afford buying both of them, we happily secured the larger of the two.
A gate through our garden wall and a paved walkway were added, connecting the new building and its adjacent car park to our existing property. It is with great joy that our growing traditional community can now expand towards that new site, which already provides us with a much needed parish hall and conference room. Our Wednesday educational activities take place there, as well as our weekly twenty-strong men's group. Last Christmas, an audience of sixty comfortably sat in the larger room to attend a Nativity play performed by our talented children. Everyone at St Mary's gives thanks for the opportunities offered by the new building to our pastoral activities.
---
This is a unique opportunity to endow St Mary's Shrine with the space we urgently need: parish hall, music room, clergy offices, and classrooms. In addition, a pro-life office, a publishing company, a vestments-sewing workshop and accommodation for retreatants could be added.
PROMINENT CATHOLICS NATIONWIDE SUPPORT THE PRIORY CAMPAIGN:
Archbishop Malcolm McMahon OP, Jacob Rees-Mogg MP, The Catholic Herald, SPUC Chairman and 40 Days for Life Director, and more…
"I am glad to support the Priory Project in Warrington. At a time when many sacred buildings are converted to secular use, St Mary's retained its original purpose when the Priestly Fraternity of St Peter saved that beautiful Pugin church from closure. A sure indicator of a strong Catholic identity: four young priests were ordained at St Mary's over the past three years. More space is now needed around St Mary's Church for pastoral activities. Acquiring the former Priory buildings next to the church would answer that urgent need. I am honoured to support the Priory Campaign of fundraising.
Signed: Jacob Rees-Mogg, MP – on 3rd July 2018"
"In July 2015, I invited the Priestly Fraternity of St Peter to come to the archdiocese of Liverpool and to have responsibility for St Mary's Church, Warrington. It has now become a centre for the celebration of the extraordinary form of Mass and the sacraments. I am very pleased that such a beautiful church remained open for divine worship and provides a spiritual home for many. As the local Ordinary, I have ordained four priests at St Mary's Church over the past three years, and I have twice conferred the sacrament of Confirmation. I eagerly support the Priory Campaign which will secure for St Mary's Shrine the space needed for their increasing pastoral activities.
Signed: Malcolm McMahon OP, Archbishop of Liverpool – 12 July 2018"
"The Priestly Fraternity of St Peter in this country and especially in Warrington has demonstrated a strong commitment to the protection of vulnerable human beings. The Priory Project at St Mary's Warrington includes a dedicated pro-life space with pro-life literature, counselling and prayer. To help rebuild a culture of life in our country, I very much hope that the Priory Campaign will be successful.
Signed: Robin Haig – SPUC Chairman; Robert Colquhoun, 40 Days for Life's international campaigns director; Clare McCullough, Foundress of the Good Counsel Network"
"The priests of the Fraternity of St Peter successfully reintroduced the Church's ancient Latin liturgy to St Mary's, Warrington, when they were entrusted with this church by the Archdiocese of Liverpool in 2015. The existing congregation has received this liturgy with great interest and devotion, and it has attracted others from far and wide. The FSSP are able to hear confessions, to offer all the sacraments, to give spiritual direction to all who desire it, to instruct and receive converts, to foster vocations, and to publish a magazine devoted to their apostolate. This great and growing work now requires larger premises, and it seems providential that former parish buildings have become available for purchase. I support their Priory Campaign of fundraising to provide their apostolic zeal with the ambitious setting needed for many more English Catholics, lapsed and converts, to discover the riches of tradition.
Signed: Dr Joseph Shaw, Chairman of the Latin Mass Society"
"As the North West Coordinator of the National Association of Catholic Families I have seen first-hand that the clergy at St Mary's Warrington cares for families. Despite their limited facilities currently, the Rector of St Mary's Shrine and his fellow priests have welcomed our association to hold our Family Days at St Mary's so that we can help and support Catholic families as they strive to remain faithful to the teachings of the Church on marriage and the family. During these Family Days, one of the priests has been very happy to give catechetical instruction to our teenage children and join us in the social element of our day, making themselves available to speak to and offer spiritual advice to parents. 
The priests also offer catechism days, activities for young adults and spiritual advice for all parents generally. The church is large and beautiful, but a shrine hall and classrooms are needed for more families to come and benefit from their talks and conferences. Families coming with vans will appreciate the improved parking facilities if, as I hope, their Priory Campaign is successful. Those buildings next door look very fitting and there would be space for children to play. But there is little time. Please pledge whatever you can, and in any case, pray for success. We Catholic families in England urgently need such havens of orthodoxy and piety.
Signed: Maria Haynes, 17th July 2018″
"Renowned for its sacred music and architecture, St Mary's Church in Warrington is a place of beauty and contemplation for all, in the centre of a busy Cheshire town. I believe that such cultural oases are much needed in our day and age. Not far from Warrington, we at Arley Hall & Gardens also offer a most special place to visit, with 500 years of family history and an exceptional garden. Well aware that significant resources are needed to maintain and develop such patrimony for the benefit of all, I happily recommend St. Mary's Church Priory Campaign to provide extended facilities for worshippers and visitors alike, and hopefully an added benefit for the town.
Signed: Viscountess Ashbrook, of Arley Hall"
A mainstream Catholic weekly, the Catholic Herald, regularly writes about our Fraternity. They published a full-page article on the Priory Campaign in their printed edition of 3rd August 2018.
The Missive is the circular newsletter of the Priestly Fraternity of St Peter in North America, with thousands of recipients. They sent the following presentation on the Priory Campaign.
WHY YOU MATTER 
Christianity is in peril worldwide, and 'almost vanquished' in the UK and Ireland, to quote the late Head of the Catholic Church in Great Britain, Cardinal Cormac Murphy-O'Connor ten years ago. What would he say nowadays? Against such odds, our priestly Fraternity does its little best to help restore the reign of Christ. The Priory Campaign is not essentially about money and buildings. Important as those are, they are means to an end. The Priory Campaign is about souls. The Priory Campaign is about rolling up our sleeves to foster the reign of Christ. The Priory Campaign is about being creative, daring and proactive to implant a multifaceted Catholic hub, here in the North West of England. The Priory Campaign is about bringing together the skills and talents of many, to inspire, to enthuse, to empower.
This is why we appeal not only to those in our pews, but also to those watching us daily through our LiveMass channel, and to anyone interested in a Catholic shift from 'manage decline' to 'love the village' (and ultimately 'rebuild the Kingdom'). The St Mary's compound in Warrington could literally become the core of such a village, as described in The Village Option article (cf Dowry Magazine #36, Winter 2017).
A village is neither a fortress nor a ghetto. It is a place a convivial dwelling on a human scale. Whereas taking as our model the New Jerusalem might be slightly too ambitious, we modestly aim for 'A Nazareth in Lancashire' – a place where families and individuals will like to live, growing in sanctity around a beautiful church with daily Mass, confessions, rosary and homilies; with regular catechism, direction and processions.
OUR 7 ASSETS
[As of October 2018]
The Priory Campaign is not a dream. It is an aspiration based on objective assets. Which are they?
As you know, we have a beautiful Pugin church in good structural repair.
We have talented musicians and dedicated parishioners.
We have a growing network of supporters via LiveMass: they pray with us every day and they value the recollection and beauty of the liturgy, as well as the daily homilies and scheduled conferences.
We have dedicated and well trained priests serving here: Fr Armand de Malleray, Fr Konrad Loewenstein and Fr Ian Verrier.
We have a very supportive Archbishop. Archbishop Malcolm McMahon OP of Liverpool came twice over the past three years to ordain three FSSP priests: Fr Krzysztof Sanetra and Fr Alex Stewart (17th June 2017, for the FSSP) and last 9th June Fr Seth Phipps (also for the FSSP). He came again twice to confer the sacrament of Confirmation to our candidates.
We have legal ownership of this building, which confers utmost stability to our ministry and justifies a long-term project such as the Priory Campaign.
We are growing: While sadly seminaries, monasteries and convents are closing down all across the country, our little Fraternity is growing. On 18th July we celebrated the thirtieth anniversary of our foundation. From 12 founders on 18 July 1988, we are now 437 clerics serving in 129 dioceses on 4 continents. Last July our fourth superior general was elected, Fr Andrzej Komorowski, and his council, securing stability for the next six years. In addition, our Fraternity in England ordained one priest per year. Mainstream Catholic media such as the Catholic Herald now express that what we offer is part of the solution for the future of the Church over here.
ASK IKEA
Why did the giant Swedish flatpack furniture firm choose Warrington to open their very first store in the UK, 30 years ago? Not because of our Fraternity, since we were just being founded in Switzerland…
'Let's move to Warrington, Cheshire: 'It's where the canny live' – says The Guardian.
With 2.5 million working age people living within a 30 minute drive, Warrington has the largest catchment of any city outside the M25. As a result Warrington ranked third in terms of highest business growth, bettered only by London and Aberdeen. Warrington was acknowledged as the number one "city" in the UK for high growth small businesses, housing the highest proportion of high growth firms at 15.8% compared to the national average of 11.8%.
House prices are still less than half than in the South East.
Warrington, with a resident population of 210,000 is a large town (Unitary Authority) located some 20 miles west of Manchester and approximately 15 miles east of Liverpool. The town has excellent communication links by road, rail and air. St Mary's (Church and Priory WA1 2NS) are located ½ mile east of Warrington Town Centre in the commercial hinterland of the main business district.
AND NOW
So far we  have £523,565.00 raised. It is less than one third of the £1.78 million needed. Just as we expect this project to benefit souls even at a distance from Warrington, we seek support from far and wide, not only among our local congregation. Admittedly, £1.78 million is a lot of money. But in London one would just get a small flat for that amount. It is worth investing here.
Unlike other Church institutions though, we are poor. This is mostly due to the fact that we are merely eighteen years old in England, having only been established canonically in the UK in 2000. We have not yet had a generation of benefactors leaving their estate to us. The only one who did provided lasting financial stability for our first apostolate in the South. God bless her soul.
But we have…
• Time-proven tools of sanctification.
• Families and individuals increasingly eager to benefit from our ministry.
• One priest from the UK ordained every year.
Please help us. Speak to your friends about this historic opportunity, and pray for generous benefactors. Please help us build a strong Catholic community around St Mary's, to secure a confident future for every soul and to provide inspiration for all who seek the kingdom of God and His justice. May Our Blessed Lady guide and protect this initiative.
To donate,
please make the cheque or bank transfer

payable to 'FSSP ENGLAND'

;

write 'Priory Campaign' on the back of your cheque or in the bank transfer reference.

Are you a tax payer? Help us maximise your donation through Gift Aid.  Please

download our Gift-Aid form

. FSSP ENGLAND is a registered charity: number 1129964.
Bank Name: Lloyds Bank
Sort Code: 30-93-04
Account number: 02027225
Account name: FSSP England
For international transfers, you may also need:
Bank Branch: Palmerston Rd Southsea
Bank Address: Ariel House, 2138 Coventry Road, Sheldon, B26 3JW
IBAN: GB09LOYD30930402027225
SWIFT code: LOYDGB21361
We also have a PayPal button (which goes to our FSSP England account): Priory Campaign benefactors should then type in their message "Priory Campaign": https://fssp.co.uk/donate/.
Thank you wholeheartedly for your generosity!
Please contact Fr Rector for enquiries: malleray@fssp.org.
God bless you!
EXPLORE FURTHER
Great aerial pictures and video of targetted Priory and former School in Warrington.
Full-page article in The Catholic Herald.
Launch homily on Vimeo and YouTube.
Focus from America on St Mary's Shrine in the National Catholic Register.
Presentation video, by EWTN film director Stefano Mazzeo (click here or on picture below to start watching):